Backup launches Are You OK? campaign to support mental wellbeing industry-wide
This year's Kart-Fest, The Village Fete saw Backup launch Are You OK?, a campaign aimed at raising further awareness of mental health throughout the technical entertainment industry.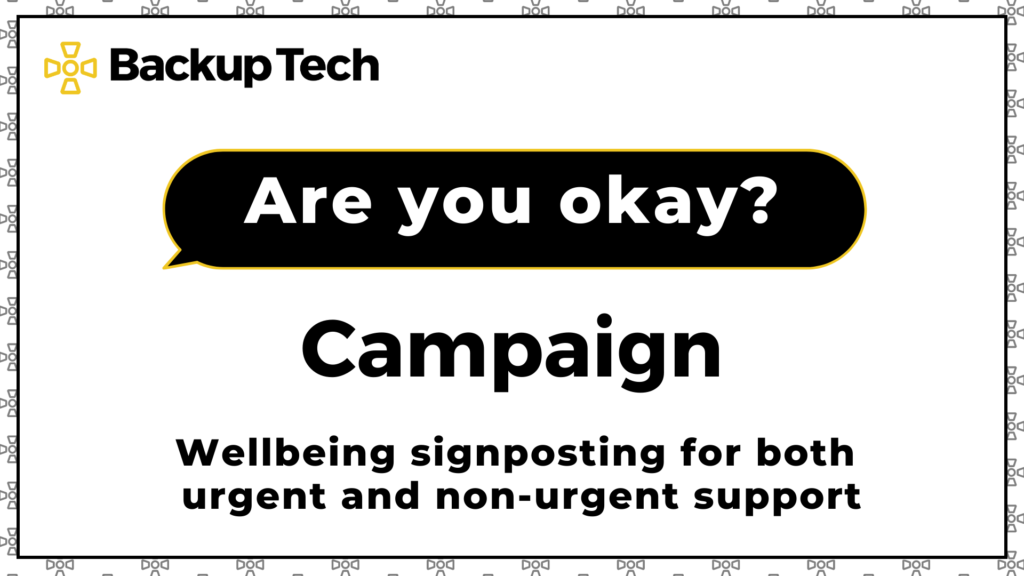 Founded in the early 2000's to provide financial support to technical professionals across sectors such as concert, live events, theatre, TV and film, Backup expanded its remit during the pandemic and has adapted its services to support colleagues not just potential facing financial hardship from physical illness, but their mental health and wellbeing.
The annual Kart-Fest has been the most prominent and successful of Backup's fund raising activities, bringing together karting fans and spectators alike to enjoy a fun-filled day, with this year's Village Fete theme brining much added to the enjoyment whilst raising money and much-needed awareness of their cause. Around 70% of the technical industry's crew is freelance, and since the pandemic, Backup has seen a marked increase in mental health support requests, evidencing the lack of support, resources and aid provided for this valued workforce.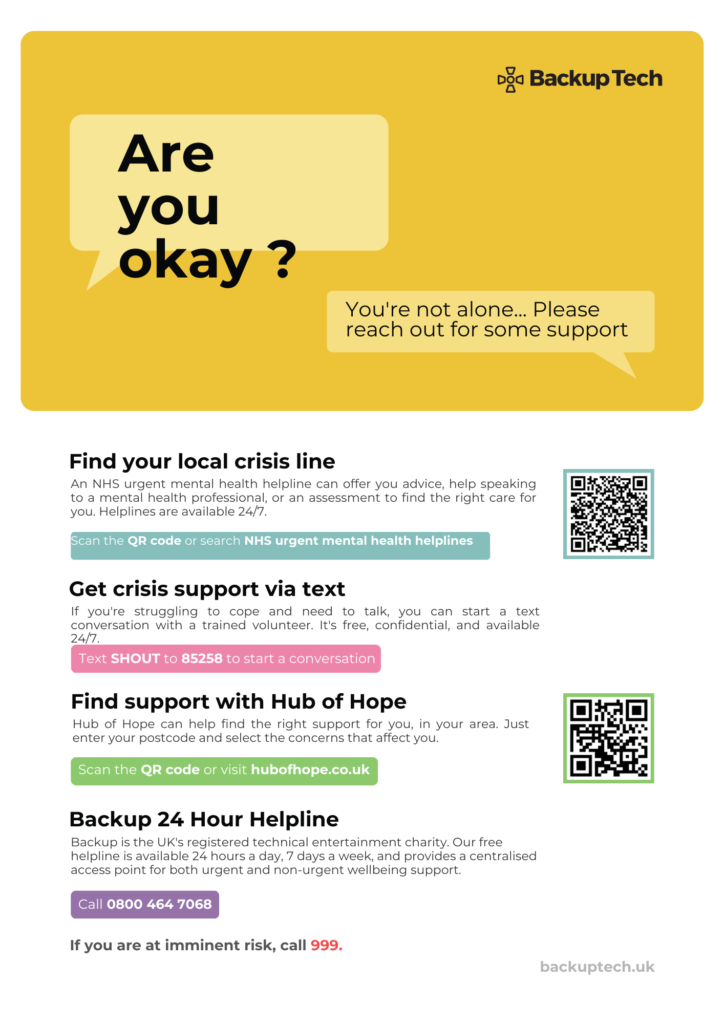 This year, Backup is delighted to announce its new campaign, Are You OK?, to signpost easy, confidential, and sensitive access to both urgent and non-urgent mental health support, with a focus on the freelancers who are not otherwise supported. Working with industry suppliers and venues, Backup will provide a single point of access for the technical industry's crew members and freelancers by utilising industry equipment, noticeboards, and venues to place prominent campaign posters with information and QR code providing direct access to support resources.
Creative Technology (CT) was one of the first organisations to join the cause and could not be prouder to be involved. "Here at CT, we view supporting strong mental health as an essential part of our culture, providing the environment, structure and engagement for all our team both staff and freelance," says Marc Butterworth, CT UK's Director of Operations. "The opportunity to be onboard from the start with Backups 'Are you okay?' Campaign was one we felt we couldn't miss. It's a fantastic way to get information to those in the industry, who need support, on where to go for help on issues surrounding mental health. 
The posters are right there, on the flight cases, in front of those working hard to deliver incredible results for our clients. We have had great feedback already and our inhouse Mental Health first aid team could not be happier at the speed this has reached the target audience. Thank you Backup."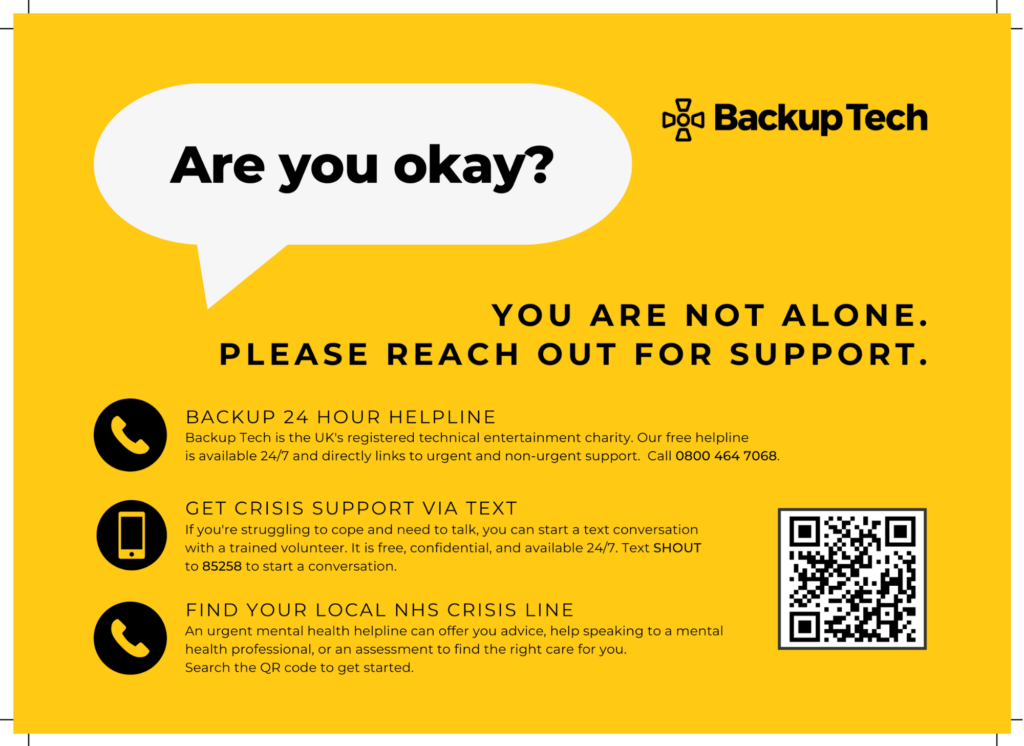 Not only is the support of organisations such as CT essential to reach the individuals who so desperately need the support, it is critical they get behind the message to ensure the resource is utilised in an industry where mental health support has not always been a priority.
The "Rock 'n' Roll" culture has long provided a breeding ground for a lack of self-care, ignorance of mental health struggles and even shame when it comes to asking for help. Are You OK? hopes to break this damaging stigma by allowing industry professionals a safe and confidential space to admit they may not be OK and signpost to urgent and non-urgent mental health support.
"I know first-hand the impact that mental health issues can have," adds Autograph Managing Director and Backup Trustee, Scott Arnold. "I've been very lucky to have the unwavering support of Autograph and it's made a world of difference to me. But not everyone is as lucky, so it's vital that organisations within the industry make sure the individuals who so desperately need help can reach it quickly and easily. It's wonderful to see these company's already getting behind the message to ensure the resource is utilised in an industry where mental health support has not always been a priority. We encourage as many more as possible to get involved." 
Stage Sound Services, TSL, 22Live and Christie Lites have also proudly signed up to the Are You OK? cause and look forward to seeing the difference it makes to their colleagues and friends. 
If you would like to join them helping signpost to mental health support, you can take advantage of the generosity of Le Mark, who are providing free 'Are You OK?' stickers (one packet of 20 stickers per company/venue), and 5 Star Cases, who will supply any new flight cases produced for customers who request it with the 'Are You OK?' QR code already printed onto their flight cases.
To sign up to the Are You OK? campaign, please click on the button below and select the 'Are You OK?' campaign downloads: Info Pack, Poster, and Sticker