Backup returns to #WeMakeEvents Well-being and Support Hub at PLASA 2022
Backup is delighted to be the lead charity on the #WeMakeEvents Well-being and Support Hub at this year's PLASA Show at London Olympia from 4th to 6th September. Launched last year, the #WeMakeEvents Wellbeing and Support Hub will once again bring together the multiple charities and organisations that have been playing an integral part in supporting the industry.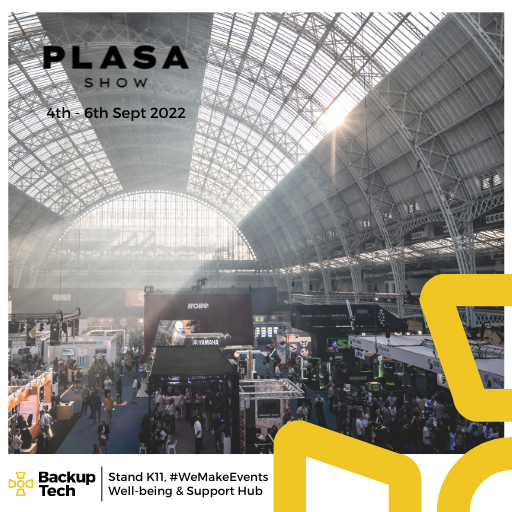 The team will be on Stand K11 to offer support, raise awareness of mental health and help take away the stigma that surrounds it. Trained mental health first aiders from Music Support will be on hand, with PLASA providing a private space for anyone who needs immediate help.
Backup is also running a new initiative, the Backup Clinic, from 11am to 4pm throughout the show. Members of the Backup team will be on hand for anyone who wants to talk, either for themselves or for someone else they want to signpost for help.
"We know just how difficult it can be to ask for help, whatever it is you need, and even more so when your mental health is affected," says Backup Vice Chair, Piers Shepperd. "The Backup Clinic is a great opportunity to drop by and have a very informal chat to find out how we can help. We'll also have information available about our free Mental Health First Aider courses, so if you want to find out more about them and how training as a Mental Health First Aider can help you and the people you work with, we'd love to see you."
Backup is delighted to be joined on the Well-being and Support Hub by fellow #WeMakeEvent charities Music Support and Stagehand.
In addition Backup have invited to join them on the stand, fellow industry initiatives and friends of Backup – The Back Lounge, The Tour Production Group and We Need Crew
Register for your PLASA ticket here and come visit us all on Stand K11