Celebrating our 'Backup Partners' – ETC
 "We love that Backup can offer different types and levels of support. They listen to what is needed for the industry and have reacted to that time and time again, always adapting to new situations." – ETC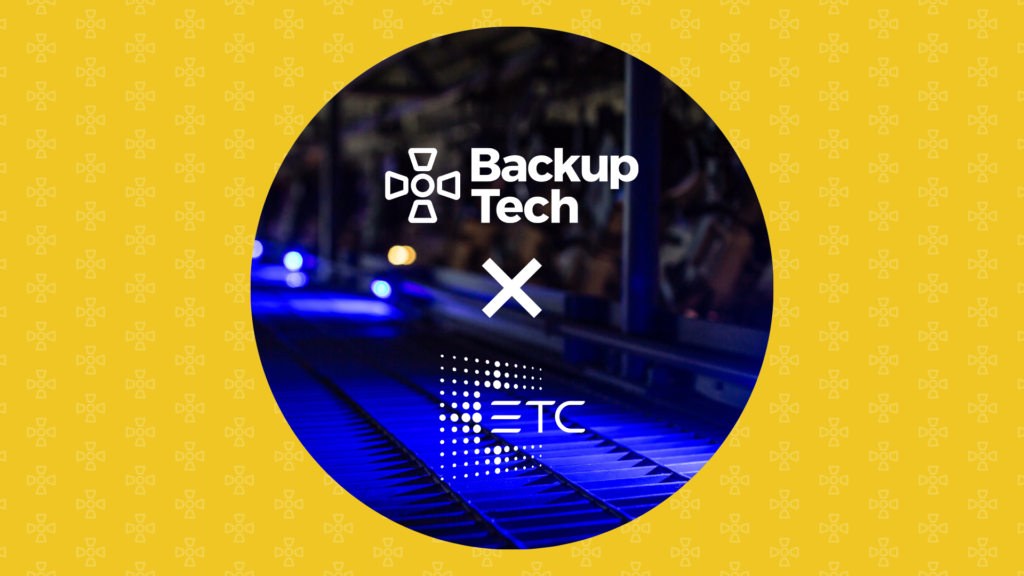 As an international leader in events lighting technology, ETC, originally named 'Electronic Theatre Controls', was founded in 1975 by a group of four friends playing around in a garage with an unwavering mission to make lighting better. Over the years, the company has grown exponentially and now boasts a 1200-strong team, operating out of state-of-the-art facility. Despite the impressive growth, ETC remains a close-knit community of passionate individuals who are deeply committed to perfecting the art of lighting. In 2008, ETC became the first official supporter of Behind the Scenes. Ever since, it has been donating all proceeds of the company's cutting-edge iRFR and aRFR apps, which are now split between the re-named UK charity Backup Tech, and continues its support of US-based charity, Behind the Scenes.
Cat Shepherd, Marketing Communications Coordinator at ETC, explains why they are passionate about supporting Backup Tech. "As an industry, we always tend to push ourselves to the limit to make the show work or get it to the next venue on time, constantly solving problems, often without even realizing it. We see it when delivery dates are pushed to make sure a new show or venue can open on time, or when people work tirelessly to make sure that a new piece of software is functional, enabling the new effect to work, among other laborious tasks that require a great deal of effort," she says.
According to Cat, one thing they do not see often is people putting that same passion and energy into self-care. "When something goes wrong in our own lives, suddenly we have a problem that we don't know how to navigate," she says. "Taking care of each other has always been part of ETC's culture, and being able to support Backup means we know there is somewhere for people to turn to when things do go wrong."
ETC's commitment to Backup Tech solidified during the development of the company's iRFR App, as Luke Delwiche, ETC Entertainment Market Manager explains: "Back in the Pre-Cambrian era, around 2007, Chris Mizerak showed me an app he had developed in his spare time. This was when the world was still figuring out what apps were! At the time, we had an RF radio device called the RFR (Radio Focus Remote) for Eos- and Congo-Family consoles, and this app replicated that functionality while also adding more features, such as the ability to take and store notes on a cue and even some rudimentary moving light controls."
Recognizing the potential of the iRFR App, Chris, who was then employed in Technical Services, was concerned it would generate many technical support questions if it were offered for free.
"While charging for it could solve some of these problems, it didn't seem right to ask someone who had already invested thousands of pounds in a console to pay an extra $50," he says. "Given our previous sponsorship and support for Light Relief in the UK, I had an idea to charge for the app and donate the proceeds to charity. Initially, we estimated it would bring in around £1,000 a year, but the actual figure turned out to be closer to £30,000! The app was, and continues to be, a success, and we have donated all the proceeds to industry charities since then."
Backup's remit has expanded over the years to encompass a diverse range of financial assistance, well-being support and training grants, and Cat values the organization's ability to provide such a broad spectrum of aid.
"We love that Backup can offer different types and levels of support," she says. "They listen to what is needed for the industry and have reacted to that time and time again, always adapting to new situations."
While it does not take a lot to make a difference, Cat believes that everyone can contribute a small amount to create a significant impact later and become part of a positive change.
"We all need help at one point or another. The more open we are about that, the easier it is for us to get past any hardships and back to a better life. Backup is here, ready and waiting. If you simply need an ear to talk to, or maybe you're unsure of your next steps, they can be those people without any judgement," she concludes. "For companies out there that would like to help, we encourage them to explore ways to generate funds for Backup through initiatives that can be easily linked back to the charity. This approach helps customers to understand where their money is going and often it will make them more compelled to make the purchase. It's a win-win situation."
To find out more about ETC click here
Our many successes are only possible thanks to the generosity of our supporters. Please help us by supporting us today.
If your company is invested in signing up as a Backup Partner click here